YOUR ESSENTIAL
DISASTER RECOVERY TEAM
High-performance axial air movers, confined space axial ventilators and heavy-duty industrial HEPA air scrubbers extend construction job capabilities by improving air quality and provide a safe and productive working environment. XPOWER's mission is to provide a good working environment at every job site - at the same time offer efficient tools for the construction management and business to help them maximize profits and productivity.
THE GAME CHANGER
XD-85LH LGR DEHUMIDIFIER
XPOWERs newest LGR Dehumidifiers are among the best in compact design. Leading the performance range with 85 PPD, and offering ergonomic handles and wheels for transportation. These compact, stackable, lightweight units are just the newest addition to the XPOWER family of Dehus. More equipment in smaller vans equate to smarter profits.
Features include:
Water removal capacity: 85 pints/day at AHAM (80°F, 60% RH)
LGR Performance with operating range between 33°- 105°F(0.6°- 40.6°C)
Advanced recessed digital control panel
180 CFM maximum airflow capacity with low 6.7A power draw

XPOWER AIR MOVERS - YOUR 24/7 WORKERS
Powerful air movement is what we do! With the most complete line up our FAN CLUB leaves little to the imagination. Visit our page and find one that fits your needs. From centrifugal air mover, axial fans, and confined space fans to low profile air movers that are perfect for the hard-to-dry places. They won't disappoint.
Features include:
WE ARE THE LIGHTEST WITH AIR MOVER UNITS UNDER 10 LBS
ENERGY EFFICIENT WITH AMPERAGE DRAWS AS LOW AS 1.2 AMP
POWERFUL AIR FLOW UP TO 3600 CFM
PRESET 3 TO 5-SPEED & VARIABLE SPEED OPTION AVAILABLE
CLEAN AIR MATTERS
INDUSTRIAL AIR PURIFICATION
In today's environment Indoor Air Quality is a household term. XPOWER's lineup of HEPA rated air scrubbers and negative air machines offer solutions to all your needs. With variable options for filtration from HEPA to Active Charcoal filters, light weight built, daisy chainable feature for additional internal containment machines, XPOWER's air care units are your professional choice for cleaner air.
Features include:
550-600 CFM rated airflow
Lightweight and portable
Energy efficient with less than 3 amp
Built-in power outlet for daisy chain
Filter replacement indicator light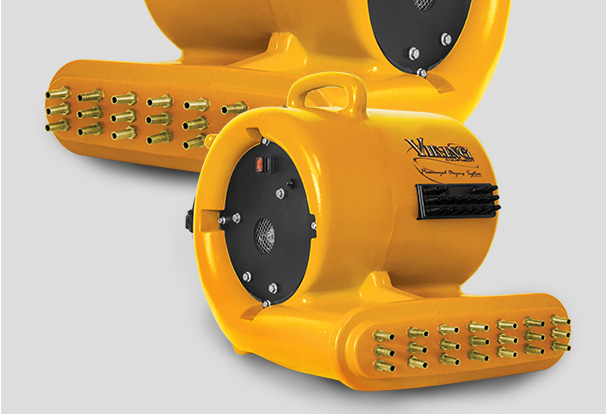 COMING SOON - WATCH OUT FOR THIS BAD BOY!
PDS 21 – Pressurized Drying System
All in one package, PDS 21 system makes drying wall cavities easier and far less frustrating than before. This pressurized drying system is tested and trusted by many restorers to be one of the ultimate flood remediation tools in the industry. It delivers heated air through small tubes too hard to reach areas. Great for drying under sinks, behind cabinets, permanent furniture, behind drywall & into wall cavities.
Rents under Xactimate Code: WTRWALL (Wall cavity drying - Inj. type).
Heat to 205º
Pressurized air flow
Most even airflow
Built-in cord wrap
Light Weight
Easy grip handle
On-board plug-off system
Self-healing thermal protection
Stackable for storage
UL approved
Let's make a difference!
XPOWER's mission is to create innovative & essential equipment for all restoration professions. If you're repairing water damage, restoring flood or fire damage, XPOWER's full line is indispensable. Together, we will help you maximize efficiency, performance and profit.