GENERAL CONSTRUCTION EQUIPMENT
High-performance axial air movers, confined space axial ventilators and heavy-duty industrial HEPA air scrubbers extend construction job capabilities by improving air quality and provide a safe and productive working environment. XPOWER's mission is to provide a good working environment at every jobsite – at the same time offer efficient tools for the construction management and business to help them maximize profits and productivity.
CONFINED SPACE
AXIAL VENTILATORS
XPOWER'S confined space fans offer a complete control of air velocity. Lightweight and compact, they can handle narrow spaces like manholes and sewers with 8" or 12" diameter hoses able to duct air up to 25 ft. use without hoses to create high volume air circulation ibn gyms, hallways and other large areas. These robust fans deliver dry air to ventilate, create negative air pressure and help complete any drying process for a variety of utility, public works and construction applications.
Features include:
Varible speed control
Low power draw
Powerful 1/3 or ½ HP sealed motors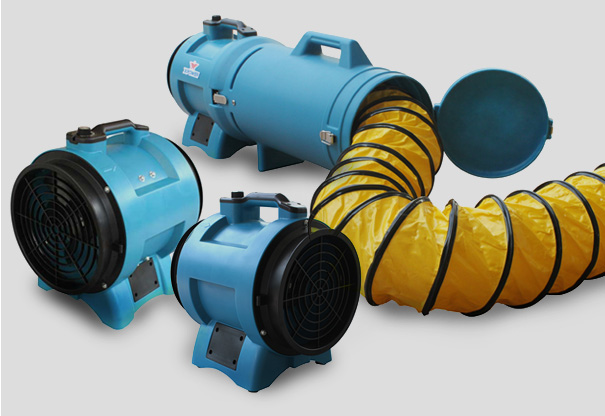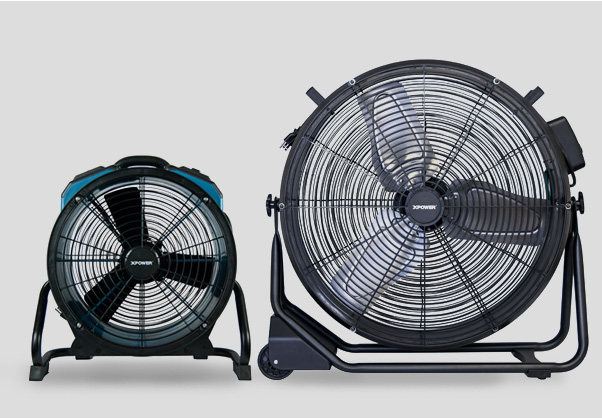 GENERAL INDUSTRIAL
VENTILATION SOLUTION
XPOWER offers the ultimate heavy-duty axial fans & drum fans– built using durable ABS, sealed high torque motors generating an exceptional 3600 CFM with less than 3 amp draw. The included rack stand allows for full 360 degree multidirectional drying offers an efficient and economical solution to all your medium to large sized ventilation requirements. Our fans are designed to provide massive amounts of high velocity air to complete any job, whether it is for construction, such as drying out water-damaged areas, speeding the curing process of concrete, tile, drywall, or simply natural air ventilation.
Features include:
On board daisy chain able outlets
Variable speed control switch
3 hour timer optional
ETL/CETL safety certified
INDUSTRIAL QUALITY
AIR PURIFICATION
Commercial construction sites are dusty places. Particularly when it comes to drilling, grinding, cutting and milling operations or the removal of old plaster or tiles. Therefore, a proper, high-performance air purification system is an important part in any industrial facility that face harmful air pollutants in a confined space where employees work. The unique and highly innovated XPOWER air scrubber purifying system are commercial quality with advanced 3 or 4 stage filtration, including a washable inner nylon mesh, pleated media, activated carbon, and HEPA filter. These high-efficiency air scrubbers designed to capture a wide range of submicron contaminants.
Features include:
550-600 CFM rated airflow
Lightweight and portable
Energy efficient with less than 3 amp
Built-in power outlet for daisy chain
Filter replacement indicator light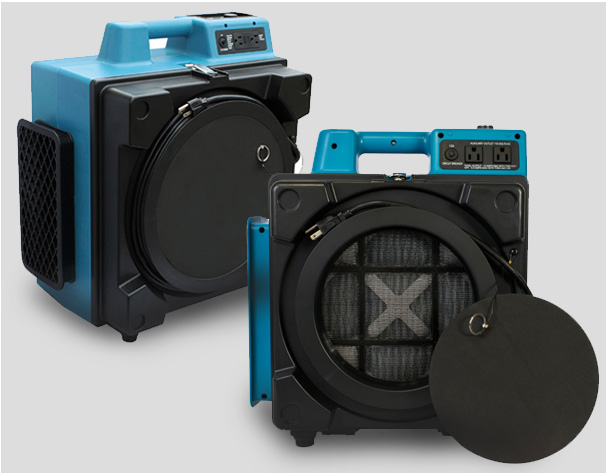 FIND THE RIGHT SYSTEM FOR YOUR BUSINESS
Good ventilation and air quality are keys to a safe and healthy workspace for your employees. For many years, the construction industry has been experiencing chronic problems such as poor health and safety, inferior working conditions, and non-achievement of quality, which have had effects on construction productivity and overall company image. Proper ventilation and air purification are a necessary part of any industrial facility that produce harmful air pollutants in a confined space where employees work. XPOWER products are designed to outperform and to provide a safe and comfortable working environment. Our equipment is relatively inexpensive and needs little to no installation; some models are made to be high temperature for hot environment. Our goal is to help businesses unlock potential revenue and the same time create comfort and safety in the workforce.