THE XPOWER MISSION
Specializing in leading edge design and precision manufacturing of air movement technologies,
while supplying innovative real world solutions to the professional and consumer market.
All products are precision engineered and manufactured using XPOWER designed and fabricated injection molding and electric motors.
Sustainable large-scale manufacturing capacity that can meet global product demand, from single pallet to multiple containers.
Product development strategy focused on lightweight, quiet, and rugged products that do not sacrifice power, utility or durability.
Consistently on the leading edge of market-driven air moving technology.

Comprehensive support and repair facility, ensuring customer satisfaction and timely turnaround.

Highest quality and safety standards incorporated into lightweight, durable and efficient product design.

Fully integrated design assembly, from injection molding to electric motor.

Over 2 decades experience manufacturing state-of-the-art products for commercial and consumer use.

Welcomes global partnerships to drive innovation and successful business relationships.
Feb
15
Thu
GROOM EXPO WEST

@ Pasadena Convention Center
Feb 15 @ 11:00 am – Feb 18 @ 5:00 pm
XPOWER is proud to be an exhibitor at this year's Groom Expo West in Pasadena, California! We cordially invite you to drop by our booth (#203) and find out what XPOWER is providing for the professional grooming community, and let us learn from you on how to build a better future.
Do you own a pet care facility? Are you involved in grooming, boarding, training, breeding, exhibiting, handling, brushing, bathing, walking, helping, or understanding pets? Do you retail pet products to the pet-owning public? Do you need to improve your grooming or handling skills? Or learn how to retail or add retail to your mix of services? Then this is your place.
Groom Expo West is for anyone who makes a full or part-time living from professional pet care… or is a serious hobbyist. Groomers, mobile groomers, kennel operators and kennel personnel, trainers, day care operators, veterinarians, pet retailers, animal behaviorists, shelter personnel, breeders, handlers, vet techs, or anyone involved in the pet industry will find a wealth of information, products and services to meet your needs.
Mar
14
Wed
LOS ANGELES BUILD EXPO

@ Los Angeles Convention Center
Mar 14 @ 10:00 am – Mar 15 @ 3:00 pm
On behalf of XPOWER, please allow us to extend an invitation to visit our booth #628 during the BuildExpo 2018 show. At our booth, we will showcase our professional tools for the construction industry. Come learn about XPower technology focus on Construction indoor air quality solutions at the work sites. Our representatives will be there to answer any questions you may have about our equipments.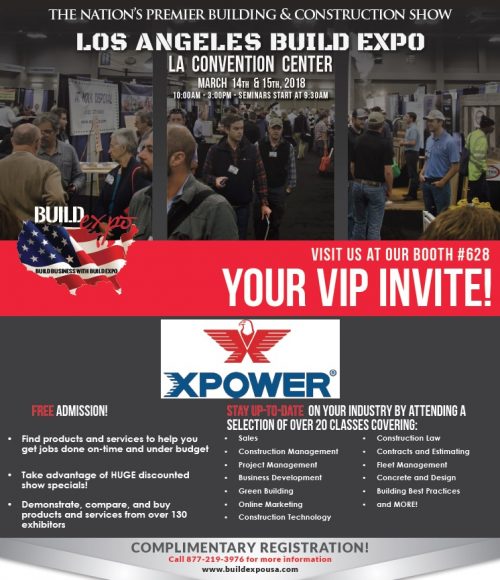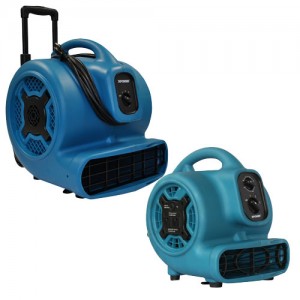 Most don't realize just how versatile a piece of equipment the air mover is. It combines focused air movement and lower power draw, making it the perfect tool to use when one requires a precise stream of air that can be turned on and off instantly. Let's explore the many ways you can use this workhorse of home, business and industry.
Drying Carpets & Hard Floors
Air movers have been a mainstay in the carpet cleaning industry for years. Their ability to aim air across a large horizontal surface creates quicker dry times, enabling carpet cleaning professionals to get through scheduled jobs with greater efficiency. Many air movers are daisy chainable, a feature that allows several to be wired together for even a quicker turnaround time.
read more